3D Printer
Modelmaking in the printing process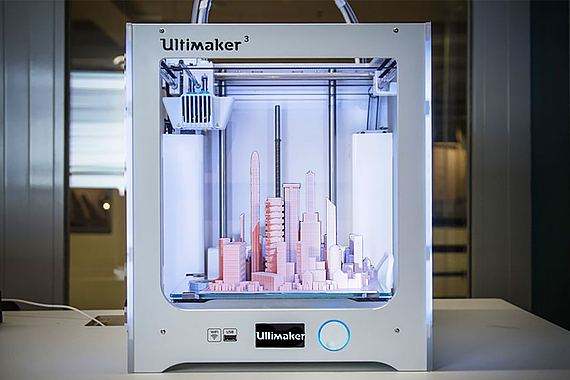 The faculty has had various 3D printers since 2009. Currently, students are offered 3D printing on Ultimaker printers. These 3D printers build objects using Fusion Deposit Method (FDM), which means that thin strands of hot plastic are deposited in layers. The objects are suitable for use as scale architectural models, or as functional prototypes, short runs, tools or spare parts. The basis for the creation of a 3D print are three-dimensional digital model.
Available printers and materials

Ultimaker 3, with a maximum installation space: 230 x 190 x 200 mm Ultimaker 5, with a maximum installation space: 330 x 240 x 300 mm For both printers, the material PLA is always available in white and black. Support material can be made in PLA or PVA (water soluble).

3D data / file formats / software

The digital 3D model should be a continuous closed volume and exported as *.STL file. Almost all common 3D programs allow the export of this format. The model should be scaled before exporting so that the real dimensions of the finished print are shown in the unit of measurement mm. Detailed instructions for creating STL files are available for Rhinoceros 3D and Archicad.

The printers are controlled with the software Cura. Interested parties can freely download this software to better anticipate the resolution, printing time, support design. Translated with www.DeepL.com/Translator (free version)

Prices

The prices consist of a processing lump sum and the quantity of the consumed material volume. Both the material for the model and any support material are charged.

Removal of support material and cleaning of models is not part of the 3D printing service offer. In the list are examples of 3D printed models, their printing time and price.