Laser Cutter
Precise cutting with the laser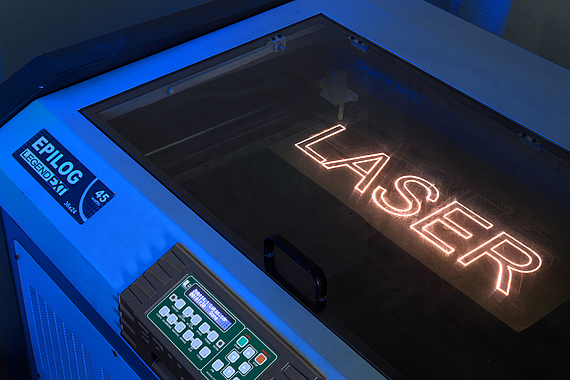 Two laser cutters are available to students of the Faculty of Architecture and Landscape Sciences.
With these, precise cutting and engraving work can be carried out on various materials.

The laser cutter room is located in the basement of building 4201 (Herrenhäuser Str.8) / wing D opposite the model-making workshop.
Opening Hours
Weekdays from 10-11h a.m.
In case of short-term changes to opening hours, please refer to the notices on the door.
Laser orders will only be accepted during opening hours.
Attention: at the end of the semester please allow for long waiting periods!
Information on order preparation

draw the whole drawing in a frame of 90x60 cm, this is the maximum size that can be lasered
Lines to be cut are ALWAYS blue (RGB 0/0/255), lines to be engraved are red (RGB 255/0/0), both can be in one file
double lines are also lasered twice and should therefore be avoided
the material must be brought along and cut to a maximum size of 92x62 cm
for smaller objects the material can also be brought smaller; however, it is important that the material is always 2cm larger than the file to be lasered
File format PDF (note scale!)

Permitted materials

The following materials can be processed up to a maximum size of 92x62 cm

The materials must be flat and even (without kinks and waves) to achieve an optimal result.

Cardboard
screen printing up to 2,5 mm
Finnboard up to 2,5 mm
Grey board up to 1,5 mm
Laser board up to 2 mm
Corrugated board up to 4 mm
Brown cardboard up to 2 mm


Wood
Plywood Poplar up to 5 mm
Plywood multiplex up to 2 mm
MDF up to 2 mm



ATTENTION!
PLEXI AND ACYL CAN NO LONGER BE PROCESSED ON OUR MACHINES

contact

If you have any questions, please feel free to contact us by e-mail at lasercutter@archland.uni-hannover.de.

Details on the successful processing of orders are to be clarified on site with our student assistants.